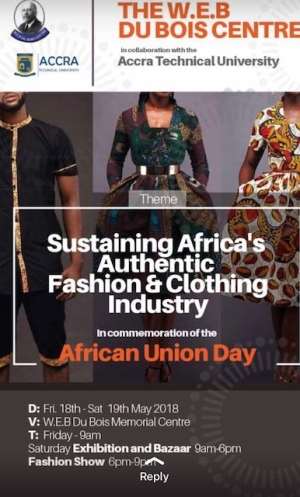 The W.E.B Du Bois Centre and the Accra Technical University (ATU) with support from the Ministry of Tourism, Arts and Culture would host the 4 th Fashion and Clothing Show at the Du Bois Centre, Accra.
About 230 final year students of the Fashion, Design and Textile Department of ATU are expected to take part in the show, as the event forms part of their academic work and exams.
The event, which is slated for May 18-19, 2018, was to commemorate this year's African Union Day, with the theme; 'Sustaining Africa's Authentic Fashion and Clothing Industry'.
Madam Akofa Dokosi, Deputy Director at the Du Bois Centre, said in an interview that the programme would officially open on Friday, May 18, with art, craft, clothing and indigenous food exhibition and its climax being a fashion…